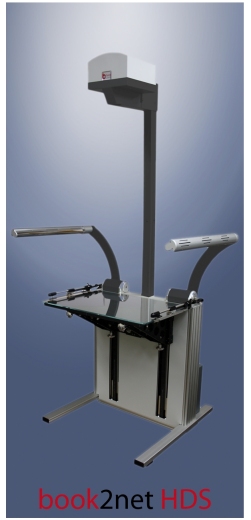 High Resolution
Due to an ideal combination of a high class CCD camera with a high-quality lens system, the book RGB HD provides an unrivalled true resolving power:
8-10 line pairs/ mm
600 dpi resolution,800, 400, 300 dpi individual selectable
Special Optic
Special lens system for best sharpness
Special coating
Professional black non-reflecting coating
Glass cover
Self-opening, high level scratch resistant glass cover for comfortable operation and steady quality
Book cradle
The motorized book cradle is controlled by an auto-pressure adjustment with pressure sensors in the glass plate which ensure a particularly gentle treatment of books with a spine up to 20 cm.
Due to the advanced layout table it allows scanning up to 650mm x 450 mm (A2+) and thickness of 250 mm
Ergonomics
Ergonomic, handicapped accessible workstation with legroom gives you the opportunity to work seated. The adjustable height adapts to the working level you are comfortable with.
Light Concept
Light Control System (LCS) for best color reproduction and absolute protection for your documents
Color Management
Integrated true- color-management for authentic scanning of your documents.
Calibration, profiling and controlling of the color quality in easy steps.
Stay flexible with the A1 book holder:
The optionally available A1 book holder offers the possibility to scan even bigger books up to A1.
The specially designed holder supports scanning with different angles of book opening.
Learn
more
and view