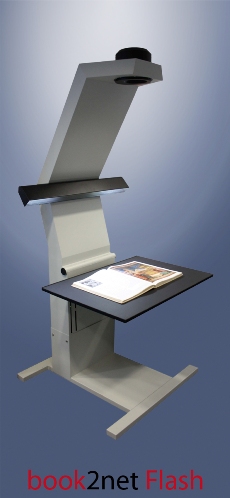 The new book2net flash large-format scanner enables you to capture large format originals up to A1 in size faster and more economically than ever.
High-quality results
Thanks to the sophisticated 2D-camera technology, book2net flash provides you with an improved signal quality with small file sizes. As a result, you will get high quality images with a faster and better OCR recognition. The LED illumination concept ensures an even illumination during operation for best color reproduction.
Easy of use
book2net flash includes a full featured production software that is easy to use and gives the best operator support. The comfortable graphical user interface can be customized to meet your individual demands and will make your day-to-day work much more efficient and convenient.
Integrated Image Enhancement
The workflow-based software offers an abundance of image enhancement functions for automatic batch post processing which enables you to cover your daily requirements and optimize your workflow.
3.3 cycle time
5 inch focus depth
For media up to 611 x 916,4 mm (>A1!)
Improved signal quality for proper OCR
Easy to use operators interface
Best operator support
Including Book Expert Software with integrated Image Enhancement
Learn
more
and view