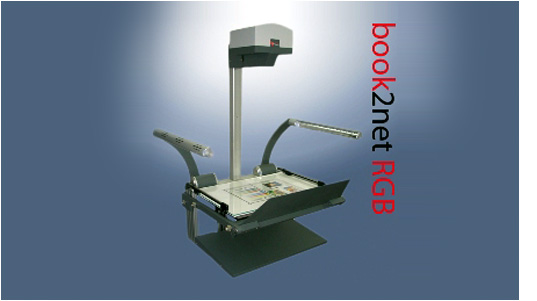 The book2net RGB production scanner is designed for high volume digitization projects with high quality requirements.
Thanks to the unique illumination concept based on two power LED bars with only 13,2 watts supply energy. The cold light source is patient to the documents and provides best color reproduction. Because of the movable illumination strip it is antiglare and highly convenient for the user.
Due to an ideal combination of a high-class CCD camera with a high-quality lens system, the book2net RGB scanner achieves an unrivalled high resolution. It also provides you with high quality archiving and a proper OCR recognition.
Flexibilty
The book cradle of the book2net RGB covers a wide range of different document sizes and weights. Its advanced layout table allows scanning of books up to 650 mm x 450 mm (> A2!) with a maximum spine of 10 cm.
Image enhancement included!
Every book2net book scanner is equipped with the unique Book Expert software. The integrated image enhancement of this outstanding scan application will enable you to achieve a perfect image quality. Book Expert offers an abundance of image enhancement functions for automatic batch post processing which enables you to cover your daily requirements and optimize your workflow
Learn
more
and view