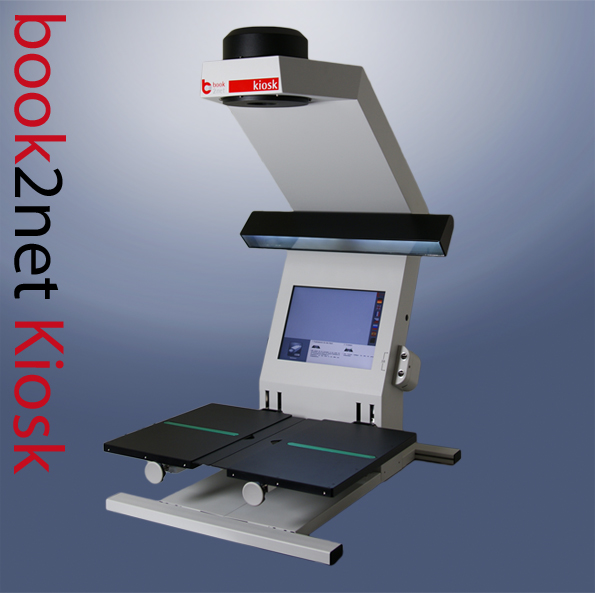 The new book2net Kiosk is designed to enable a fast and economic capturing of bounded documents in public areas at
Reading rooms in public and academic libraries
Companies
Banking houses
Lawyer´s offices
The unique product concept of the book2net Kiosk is more then a replacement technology for current copiers: book2net Kiosk enables you to fit your requirements in a much better way, improve your service and reduce your costs significantly.
The configurable graphic user interface gives you the opportunity to adapt the software on your individual workflow. Single functions can be easily added and up to 7 languages are available for user guidance.
To meet legal requirements book2net Kiosk enables you to implement copyright regulations and/or watermark as an integrated part of the workflow.
The new twin touch technology and remarkable short cycle time enables the unskilled walk-up operator to achieve high-quality scans quick and easy.
10 good reasons for a change
Sensor technology
Stay flexible with book2net Kiosk. The option to choose a 10.5, 32, 40 or 50 mega pixel sensor will give you the opportunity to meet your individual requirements in perfect way
0.3 seconds scan speed
The outstanding scan speed of 0.3 seconds and the short cycle time of only 1.9 seconds offer you an unrivalled productivity.
5 inch focus depth
The high-level quality becomes independent from the thickness of the book.
Twin touch technology
The intuitive touch-screen user interface enables any unskilled walk-up operator to achieve a high-quality scan with only two touches.
Multilingual
Switch between 7 languages at any stage of operation.
Dual USB-port
… for double life expectancy and security.
Virus protection
The Windows embedded operation system book2net kiosk offers you maximum protection against viruses and long term support.
A2 book cradle
- elevates up to 4 inches automatic
- non-reflecting coating
- low external friction to the book
UV- & IR-free
The light source of the book2net kiosk has no radiation exposure.
Earn more revenue
Beyond the added value the new technology of the book2net kiosk offers to you the opportunity to reduce your costs and increasee your revenue.
Learn
more
and view